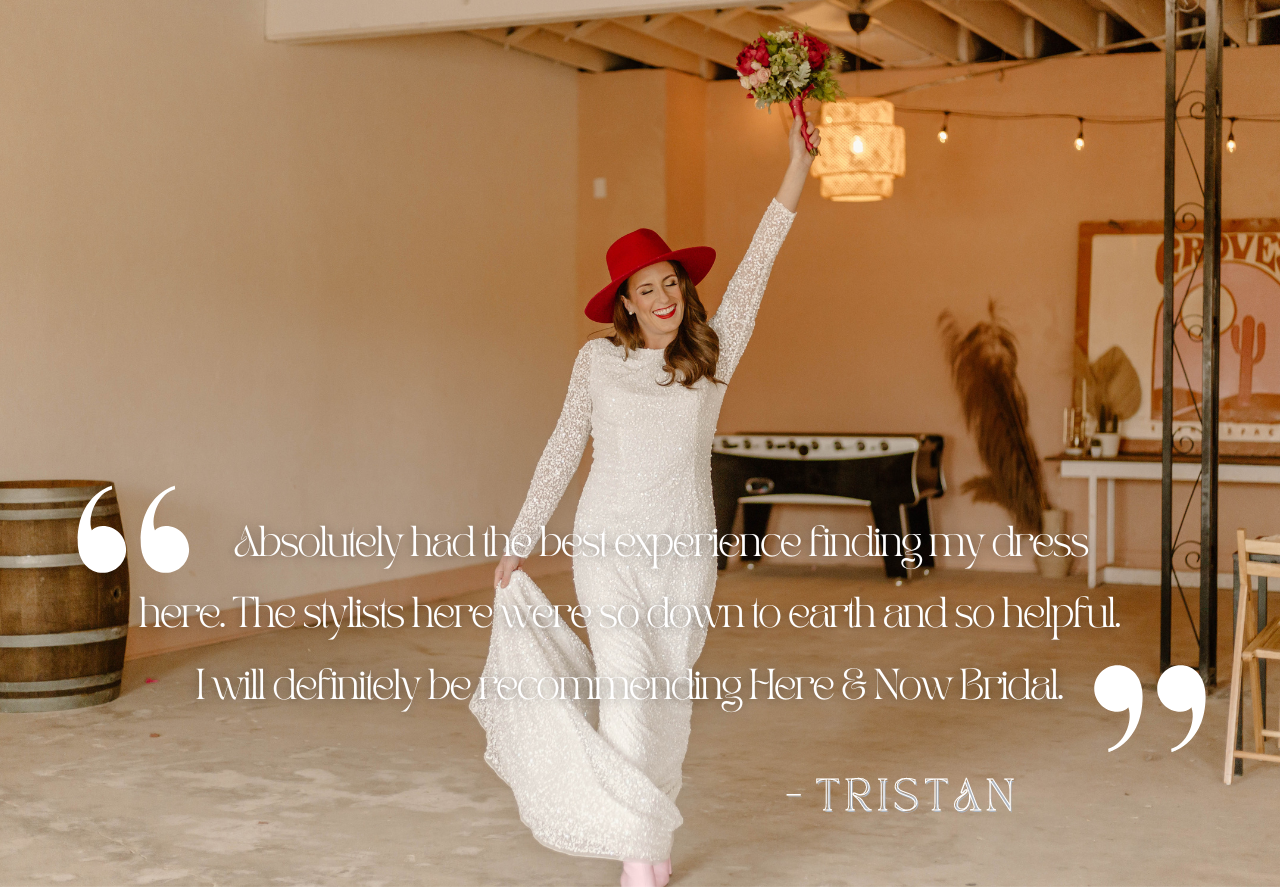 I came here and found the dress of my dreams at such a great price! I ABSOLUTELY love it! Camrynne greeted me at the entrance, I showed her my vision, and she made some incredible selections. She along with the staff were patient and enthusiastic I truly felt I got the royal treatment. I highly recommend for a dress fitting, fit for a queen!
-Reine
I couldn't be more thankful for my experience with *ALL* the ladies at Here and Now Bridal. From the very first phone call to the very second I walked out the door, every one of these ladies were polite and made my desires and needs feel heard. Tori was great with remembering the dresses I liked and didn't like. She was so knowledgeable and so helpful! Danielle went absolutely *above and beyond* to make make sure I left a happy bride & I truly couldn't be happier! Thank you Danielle & Tori- I can't stop looking at my dress!
-Taylor
This shop had such a large selection of high quality dresses. The two young women that work there made this experience SO special for me. Picking out a dress for your big day can be tough but they make sure to make this decision as easy as possible. They made sure to involve all of my guest. Really loved the fact that you were able to take your dress home that day. 12/10 experience! Truly couldn't recommend this enough!
-Kenna
Sierra was absolutely amazing!!! She had me try dresses I would have never picked for myself and I ended up saying Yes to the dress at this beautiful boutique. My bridesmaid even found her perfect dress!! I could not have asked for a better experience and highly recommend shopping here if you're looking for your perfect dress
-Heather
I LOVED SHOPPING AT HERE AND NOW BRIDAL! I went to them earlier this year for a second wedding dress since my 1st dress was a ball gown. Studio I Do sent me to Here and Now Bridal to find a dress in my price range. Ms. Jan was so helpful! We were able to find the right dress for me within the appointment. I loved my experience so much that I went back again to get an additional dress! Don't worry I wore all three. I did a walk in appointment and luck would have it Ms. Jan was there again! For the second time I found the most perfect dress. Thank you Here and Now for amazing experiences I hope every bride gets to visit
-Arianna
I can not say enough good things about my experience! I went along with my cousin as she found her DREAM Dress!! This personable, knowledgeable, caring and beautiful staff were so accommodating and supportive. She found her dress and her veil and the prices are as amazing as the Inventory. If you do not want the big box experience and prefer something personal and special come here ! You will not be disappointed!!!
-Jess
Janice was super sweet and helpful for my first wedding dress appointment ever! She went through all the dresses and kept my budget in mind with each dress. She answered all my questions on alterations and how it would transform into the perfect dress. Definitely would recommend the dresses were all beautiful and good prices
-Callie
After my experience at Here & Now, I wish I could get married more than once! Jan was an absolute pleasure to work with. She was very attentive to my requests when looking for my perfect dress. She was so honest and caring. I also want to shout out Mariah for being so supportive and honest, as well. The women there truly care about making dress shopping enjoyable. I wasn't able to have my family or friends with, but they made me feel so loved. I'm so appreciative of their dedication to have options for everyone: price, size, style, etc. The quality of the dresses is phenomenal, too. Having the ability to buy off the rack with little to no alterations needed was a must for me, and that's exactly what I received. My dress is perfect and I couldn't be happier. Thank you ladies for an absolutely unforgettable experience!
-Shayla
Wish I could give 10 stars to be honest. From my very first appointment to find my dress to my alterations, the staff has gone above and beyond. Finding the right dress was perfect, never felt rushed or pressured. I have one more fitting appointment before the big day, but these have gone so smooth and the staff is super knowledgeable 💖 so glad we found here and now Bridal!!!!
-Erin
"Hi, I'm Brittany, that's my name"
That was the moment I knew I was in good hands.
Her sass and her personality made me comfortable right away, because the stuffy bridal studio experiences I had before were off putting , and her vibe was just contagious. I was able to let my guard down and get into the whole experience a lot more. Mid appointment I had a family emergency and the ladies here jumped into action, finding me the first appointment of the next day, and even left my top choices in the dressing room so that I could come back in the morning. Then the next day, everything that went wrong did, but they were so awesome and reassuring and it made me feel way better about everything that I had going on, and eventually I was able to say yes to both of my dresses! The dress I ended up with was the first dress Brittany pulled for me, and even my reception dress was the second one she had me try. Definitely felt like my preferences were listened to and their prices can't be beat!
-Chloe
My experience at Here & Now Bridal was amazing! Jan was great at picking dresses that suited my taste and made it a very stress-free and fun experience! This was my first time trying on wedding dresses and I wasn't expecting to leave with THE dress but I did and am in love! Thank you Jan for making this experience a memorable and fun for my mom and I!
-Kinsey
I had the best experience at Here and Now Bridal! I scheduled three dress appointments at different stores and ended up canceling my other two after finding the perfect dress here. Everyone was so friendly and helpful and it was the best experience!
-Cidnye
Jessica was absolutely amazing! I was so indecisive on what I thought I wanted and she was so patient with me. She spent more time with me than my appointment was supposed to be for. At the end I was confused and thought I was leaving without a dress, but she said let me pull one more that's different from anything else you've tried on. The one she pulled was THE dress and I said YES to the dress! I cannot thank her enough for everything! This boutique is so comfortable and not overwhelming like others I've been too. They have an amazing selection of gowns for an incredible price. Thank you from the bottom of my heart!
-Eric & Karen
Had the best experience here! I found the perfect dress and was able to return to this same location for my alterations. I loved that option because I felt like the seamstress really knew and cared about my wedding gown. I went on a Friday afternoon to look for dresses and this was such a great idea since we were the only ones in the salon. I truly feel like I got a one of a kind dress for a great price!
-Kristi
I had the BEST experience finding my dream dress!!!! I cannot say enough good things about the entire process from booking the appointment to walking out with my dress in hand. The stylists here are incredible at what they do. Sierra was absolutely amazing. She made me feel comfortable, supported, and assured that there was something there for me. She looked through my Pinterest board for overall vibe of the wedding along with my dress inspiration, and my yes dress is almost identical to the photo I showed her & told her was my favorite. Here and Now Bridal has so many options at incredible prices and is a great place to find your dream dress!! You will not be disappointed❤️
-Lily